Last week the Roadmap for reopening schools in MI was published.  We will now start working on our G-A Plan for reopening this fall.  We will have it published on our website by August 17.  It will go before our Board of Education on August 10, 2020 and then to our local ISD for approval.  We are required to submit a plan for all Phases:  1-3, 4, 5 and 6; however, we are crossing our fingers that we will at least start at Phase 4!  Please know that our Phase 4 plan will include face to face instruction, but that we will also offer an online virtual academy to all K-12 students whose families do not feel comfortable sending their child to school under a Phase 4 situation.  Information on that virtual learning academy will be forthcoming soon.  Stay tuned for more information to come!  And stay safe.  Our students are counting on all of us to follow the guidelines so that Covid-19 cases and death rates do not go up and they can return to school safely.



*** Our Summer Food Program is Back! *** Starts on June 16th!!! Tuesdays & Thursdays 11 AM – 12:30 PM G-A Primary School 315 W. Battle Creek St Galesburg, MI 49053 Serving multiple days of breakfast & lunch! Pick Up Only ~ Drive Thru or Walk Up Social Distancing Rules Apply! Questions? Please call Cheryl Cadwell at 269-484-2106 or email
cheryl.cadwell@garams.org
. Please continue to check our Facebook page & website for updates.

G-A Community Food Distribution Thursdays from 2:00 - 3:30 p.m. Galesburg United Methodist Church 111 W Battle Creek St. Galesburg, MI 49053 Augusta CDC 600 W. Michigan Ave. Augusta, MI 49012 If you know of a family who may need additional help with food, please let them know!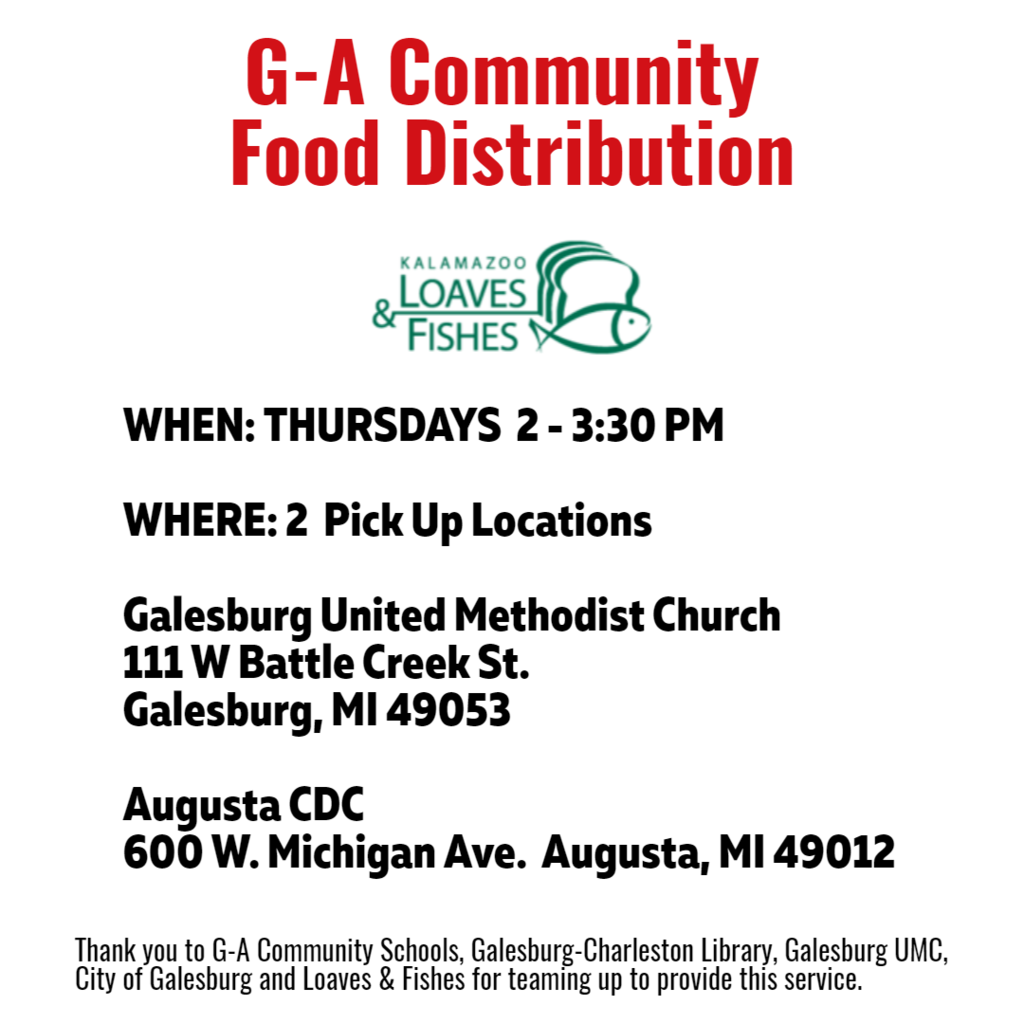 Please take a moment to join us in congratulating G-A HS teacher Theresa Shepard, as one of Kalamazoo County's 2020 Excellence In Education recipients! Congratulations and thank you for all you do for our school and our community!